Binatog
Share it on your social network:
Or you can just copy and share this url
Ingredients
2 packages 6 ears boiled white corn
water
2 cups freshly grated coconut
margarine to taste
salt or sugar to taste
Binatog
Directions
Although Filipino goods are more readily available in Southern California than when we first came to the U.S. in the early 1990's and we can now enjoy our beloved Filipino dishes with relative ease, there is still food from back home I terribly miss. I haven't had duhat for years decades. Or saresas! Wouldn't I love to get my hands dirty with a platter of talangka! Or dig into a big bowl of piping hot binatog!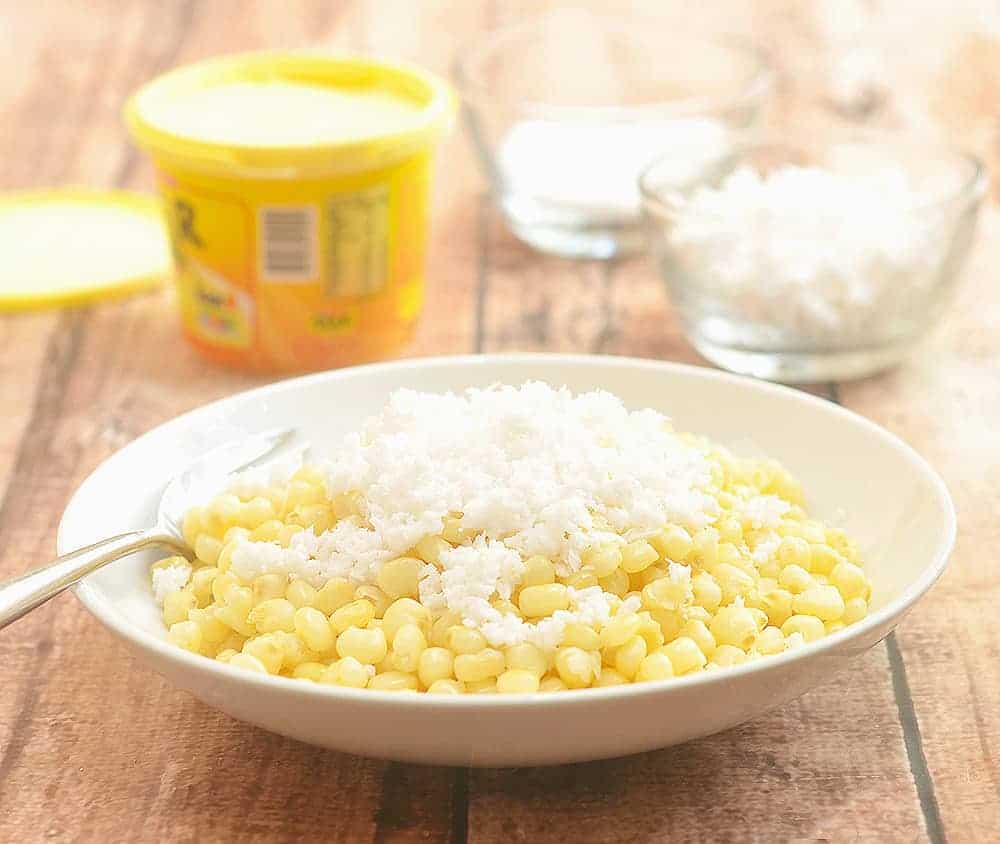 Binatog is a popular street food in the Philippines usually peddled from house to house in large metal tins by street vendors. It's made of boiled white corn kernels topped with freshly-grated coconut, margarine, and salt (or sugar) just before serving.
Although corn is plentiful in the U.S., I haven't come across the type of corn that's traditionally used in this dish. Some recipes I've found and tried in the past recommend canned hominy but although delicious, it didn't quite taste like the binatog I remember.
Imagine my excitement when my kumare (the same kumare who gave me the kutsinta recipe) posted on Facebook the binatog she made at home! Since they live in Canada and don't have access to indigenous products like me, I was curious to find out what she used as an alternative.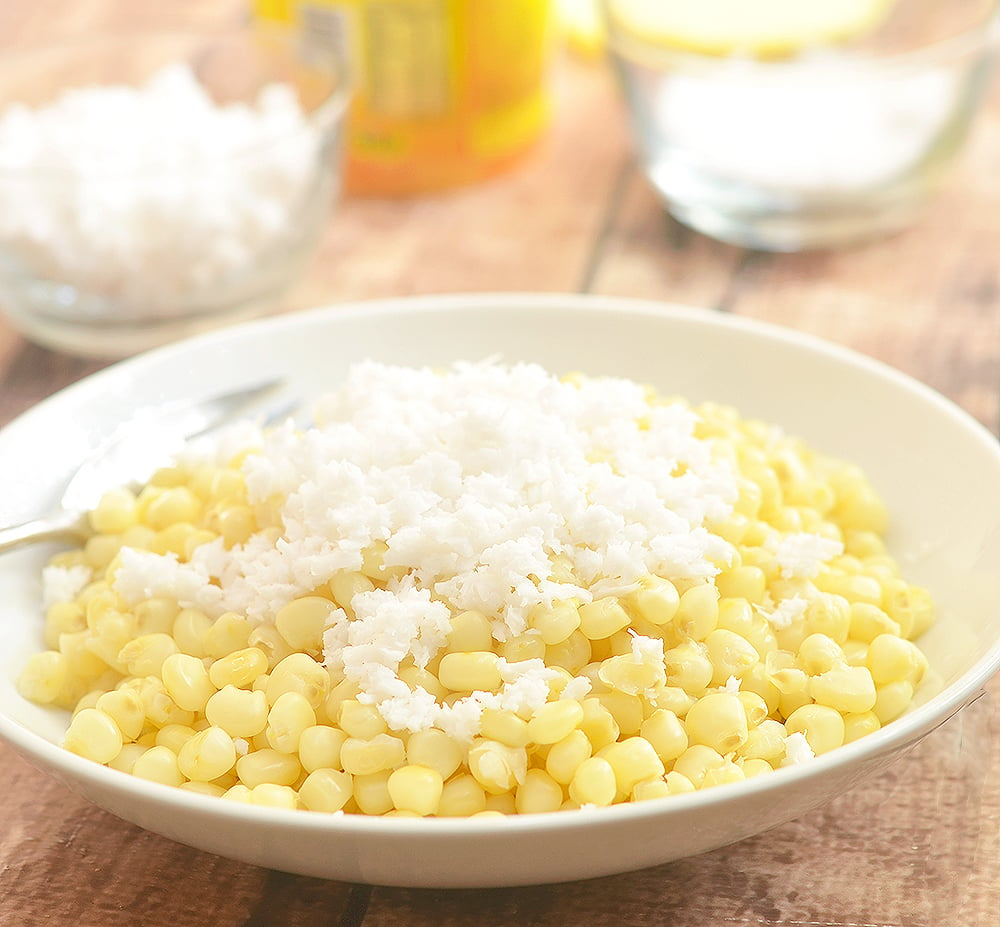 Ok, guys, I made a booboo here. What my friend used is the packaged boiled white corn you can find in the freezer section of most Asian stores. They come already shucked, cooked and usually packed in threes.
I was going to take a picture of the package to show you what to look for but, umm, I forgot. I tried to search for an image or a link online but I couldn't find any. I promise I will add a photo here the next time I make binatog. The way I polished off the last one, it would be soon.
Update: 10/16/2016 I am getting a lot of emails and comments regarding the corn I used. It's difficult to show you what I mean by native Philippine corn without the photo. My apologies, I will have a picture up as soon as possible. Update (again) 10/17/2017: Here is what the corn looks like. I made a special trip to Seafood City just for this. Not that I am complaining. Not when a fresh bowl of binatog on my lap right now as I type.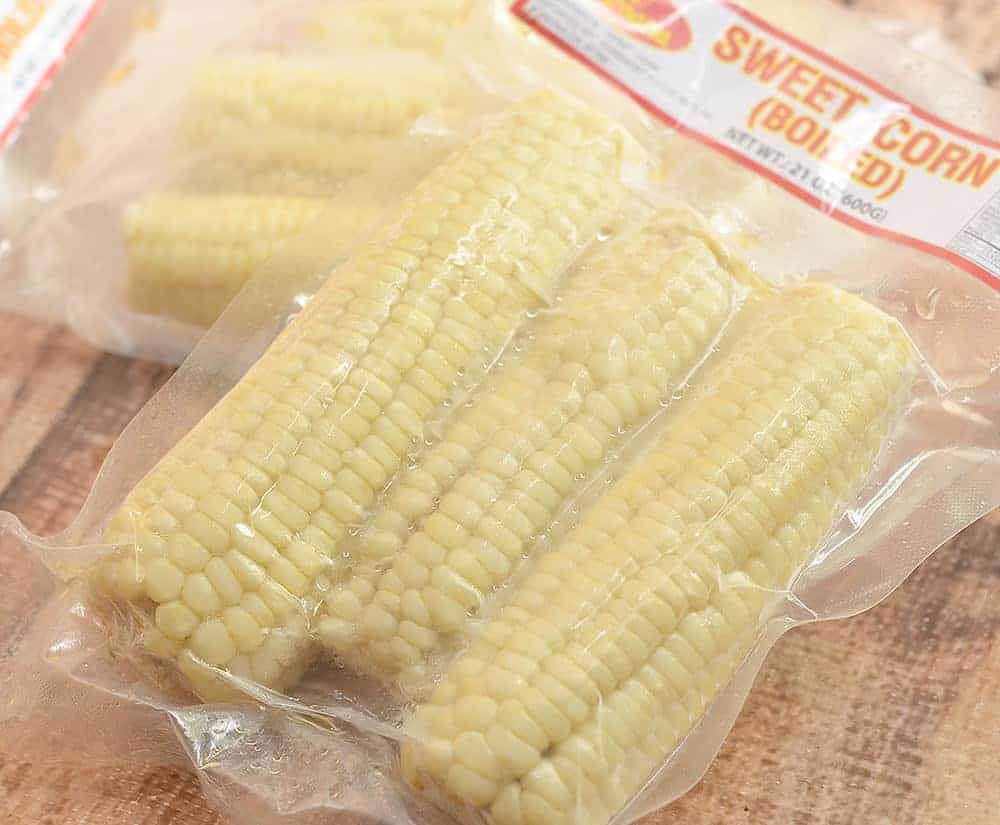 Binatog is a very easy snack you can pull together in 30 minutes or less. The only time-consuming part of making this dish is removing the corn kernels from the ears. Although faster and easier, please, please do NOT use a knife as you want to keep the kernels whole and not cut through them. The fastest way I've tried is to use a fork, just push the tines between the corn kernels and gently pry them off the cob. In a matter of minutes, you'll have corn ready for boiling. Enjoy!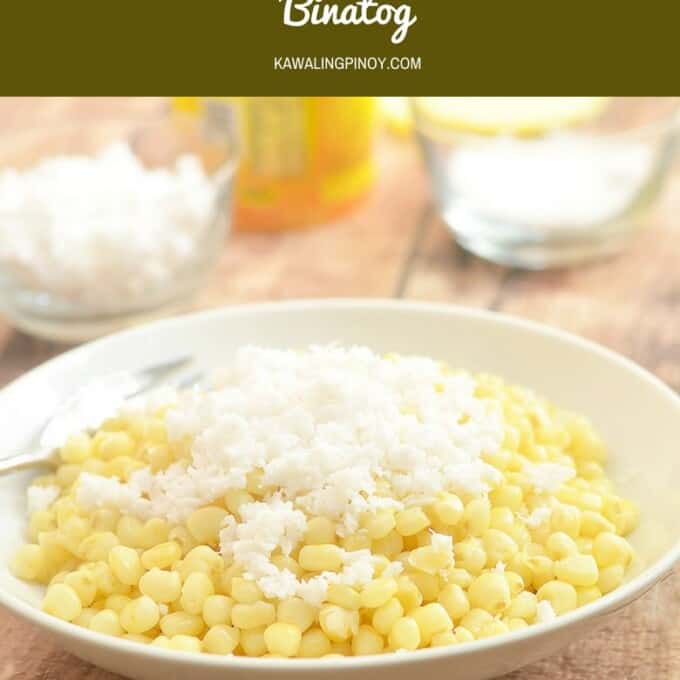 Binatog
Prep Time: 5 mins
Cook Time: 20 mins
Total Time: 25 mins
Author: Lalaine Manalo
Course: Snack
Instructions
Using tines of fork, pry corn kernels from cobs.
In a pot over medium heat, place corn kernels and enough water to cover. Bring to a boil and then lower heat, cover, and cook for about 15 to 20 minutes or until tender. In a colander, drain corn well.
Divide boiled corn on serving plates. Top with grated coconut, margarine, and salt or sugar to taste.
"This website provides approximate nutrition information for convenience and as a courtesy only. Nutrition data is gathered primarily from the USDA Food Composition Database, whenever available, or otherwise other online calculators."